1902 Encyclopedia > Abbey > Convent of Santa Laura, Mt. Athos, Greece. Convent of Vatopede, Mt. Athos.

Abbey
(Part 3)



(A) Introduction. Early Christian Monasticism. (cont.)

Convent of Santa Laura, Mt. Athos, Greece

The usual Eastern arrangement is exemplified in the plan of the convent of Santa Laura, Mt. Athos (Laura, the designation of a monastery generally, being converted into a female saint).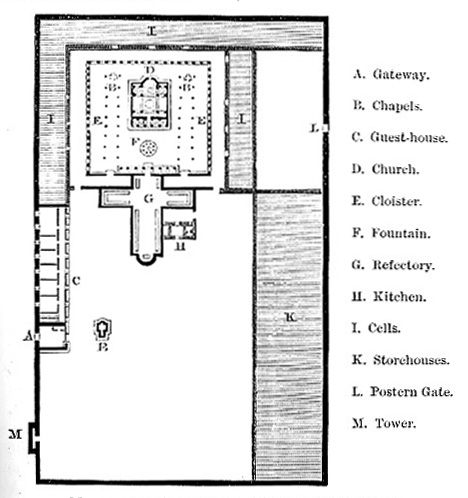 Monastery of Santa Laura, Mount Athos (Lenoir)



This monastery, like the Oriental monasteries generally, is surrounded by a strong and lofty blank stone wall, enclosing an area of between 3 and 4 acres. The longer side extends to a length of about 500 feet. There is only one main entrance, on the north side (A), defended by three separate iron doors. Near the entrance is a large tower (M), a constant feature in the monasteries of the Levant. There is a small postern gate at (L). The enceinte comprises two large open courts, surrounded with buildings connected with cloister galleries of wood or stone. The outer court, which is much the larger, contains the granaries and storehouses (K), and the kitchen (H), and other offices connected with the refectory (G). Immediately adjacent to the gateway is a two-storeyed guesthouse, opening from a cloister (C). The inner court is surrounded by a cloister (EE), from the open the monks' cells (II). In the center of this court stands the catholicon or conventual church, a square building with an apse of the cruciform domical Byzantine type, approached by a domed narthex. In front of the church stands a marble fountain (F), covered by a dome supported on columns. Opening from the western side of the cloister, but actually standing in the outer court, is the refectory (G), a large cruciform building, about 100 feet each way, decorated within with frescoes of saints. At the upper end is a semi-circular recess, recalling the Triclinium of the Lateran Palace at Rome, in which is placed the seat of the Hegumenos or abbot. This apartment is chiefly used as hall of meeting, the Oriental monks usually taking their meals in their separate cells.

Convent of Vatopede, St. Athos, Greece

St Laura is exceeded in magnitude by the Convent of Vatopede, also on Mount Athos. This enormous establishment covers at least 4 acres of ground, and contains so many separate buildings within its massive walls that it resembles a fortified town. It lodges above 300 monks, and the establishment of the Hegumenos is described as resembling the court of a petty sovereign prince. The immense refectory, of the same cruciform shape as that of St Laura, will accommodate 500 guests at its 24 marble tables.




Plan of Coptic Monastery



The annexed plan of a Coptic monastery, from Lenoir, shows us a church of three aisles, with cellular apses, and two ranges of cells on either side of an oblong gallery.





Read the rest of this article:
Abbey - Table of Contents