1902 Encyclopedia > Aqueduct > Croton Aqueduct, New York, United States

Aqueduct
(Part 11)



Croton Aqueduct, New York, United States

The Croton Aqueduct, by which the city of New York is supplied with water, was justly regarded at the time of its execution, from 1837 to 1842, as one of the most magnificent works of the kind in modern times (figs. 1 to 5).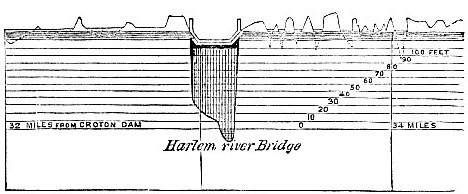 Fig. 1 -- Part Section of Croton Waterworks





Fig. 2 -- Tunnel in the soft ground



Its length from the Croton Lake to the receiving reservoir is 38 1/4 miles. The original reservoir, called Croton Lake, is formed by an embankment water falling into the Hudson. It covered 400 acres, and contained about 500,000,000 gallons of water. To the valley of the Harlem River, a distance of 33 miles, the aqueduct (fig. 2) is built of stone, brick, and cement, arched over and under, 6 feet 3 inches wide at the bottom, 7 feet 8 inches at the top, and 8 feet 5 inches high, and capable of discharging 60,000,000 gallons per day. It is carried over the Harlem Valley in iron pipes, laid upon a magnificent bridge (figs. 3 and 4) 1460 feet long, constructed of arches 114 feet above persons, and from that time to 1848, 18,000,000 gallons per day gave an abundant supply.




Fig. 3 -- Bridge over Harlem River





Fig. 4 -- Cross section of bridge



In 1872, with a population of 1,000,000 persons, the quantity required was 88,000,000 gallons per day. Thus, between 1848 and 1872, while the population little more than doubled, the consumption of water increased nearly five times. This fact, coupled with severe droughts in 1870 and 1871, when the natural volume of the Croton River fell of 27,000,000 gallons per day, caused great anxiety, and shewed the necessity of largely extended works.

It was estimated that the basin above the Croton Dam, 339 square miles in area, would give 300,000,000 gallons per day on the average, if the water could be impounded, and that, therefore, abundant water could be obtained by increasing the number or capacity of the impounding reservoirs.




Fig. 5 -- Part Section of Croton Waterworks



New reservoirs were therefore projected, one of which, to contain 3,000,000,000 gallons, was expected to be completed in the autumn of 1872. With this the gross storage would be 4,670,000,000 gallons, in addition to the daily produce of the Croton River, which at its minimum as stated, is 27,000,000 gallons per day. Another reservoir to contain 3,700,000,000 gallons was also projected, and will, it is presumed, be constructed when necessary (fig. 5).

To meet the growing demand for water, the reservoirs were not only increased as described, but the means of distribution were largely extended, and in one part of the city six lines of pipes 4 feet in diameter were laid side by side.


Commentary

The above page was first published in 1875. It describes the original Croton Aqueduct (now known as the Old Croton Aqueduct).

In 1890, the Old Croton Aqueduct was superceded by the much larger New Croton Aqueduct, which still supplies ten percent of New York's water needs.



Read the rest of this article:
Aqueduct - Table of Contents