Today in History - November 30
• A Colonial Governor Charged With Murder
• Cnut Invades England

-- Compiled by James Finlayson-Bald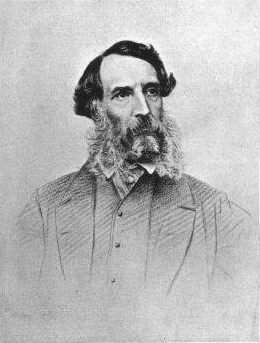 Edward John Eyre (1815-1901), English explorer and colonial governor. Hailed as a hero for his explorations in South and Western Australia, he was later charged twice with murder following his repression of riots in Jamaica while he was governor there. *
On this date:
1st century A.D.
—The Apostle Andrew, Patron of Russia, Scotland and the Ecumenical Patriarchate was martyred at Patrae in Achaea. His relics were taken to Constantinople and then on to Scotland where they were given by one Regulus to the Pictish King Ungus Macfergus who kept them with him at Muckross and later built a church for them.
1016
—Edmund Ironside, King of the English, died. He led the resistance to the Danish invaders under Cnut. After a long struggle he was defeated at Ashington and had to concede Cnut half his kingdom. After his death, Cnut ruled over all England.
1700
—Battle of Narva in the Great Northern War between Sweden and Russia. The Russians under General Dolgorouky were besieging Narva when their entrenched camp was attacked by King Charles XII and his 8000 Swedes. Following a brief cannonade, the Swedes stormed the trenches and though the Russian artillery-men stood to their guns, after hard fighting were driven out in disorder having lost 10,000 men in the trenches. The Swedes claimed to have lost 600 only. The whole affair was over in half an hour.
1901
—Edward John Eyre, explorer and colonial governor died. Beginning as a magistrate (age 17) in New South Wales, he was one of those who took stock westward to the new colony of South Australia. Arriving there he became a magistrate and protector of the aborigines. Experienced now as a traveller in the Australian bush he undertook the most extensive and difficult journeys in the desert country north and west of Adelaide. Eventually he proved the possibility of land communication between South and Western Australia. He was appointed Lieutenant-Governor of New Zealand in 1846 and went on to govern St Vincent, Antigua and later Jamaica, where a negro insurrection broke out. This, Eyre repressed with laudable vigour, but the severity and alleged illegality of Eyre's subsequent proceedings caused the Government in London to suspend him and mount a commission of investigation, which decided against his reinstatement.
1936
—The Crystal Palace in London was destroyed by fire with flames rising 500 ft into the air. The manager, Sir Henry Buckland, when interviewed said, "l am heartbroken. My Crystal Palace is finished. There will never be another". But his little daughter Crystal, (named for the Palace), patted him on the shoulder, and exclaimed, "Cheer up, Papa, for all will be well". What a very
comforting
child!
1978
—
The Times
ceased publication owing to a union dispute which lasted almost a year.
Birthdays:
-- Jonathan Swift, satirist (1667-1745)
-- Mark Twain, writer and journalist (1835-1910)
Quote:
"The whole advertisement was completely impartial. It showed the evils humanism leads to on one hand, and the benefits of true and genuine Christianity on the other." —
The Evening Post
.
* Further Reading:
Geoffrey Dutton,
The hero as murderer : the life of Edward John Eyre, Australian explorer and Governor of Jamaica 1815-1901
. Sydney, Collins, 1967.
The above article was written by James Finlayson-Bald.
Edited and illustrations added by
David Paul Wagner
.