Today in History - March 12
• Papal decree suppresses Order of the Knights Templar
• Gutenberg pays one guider tax on his wine cellar
• Anti-fascist academic Jesus de Galindez disappears from New York

-- Compiled by James Finlayson-Bald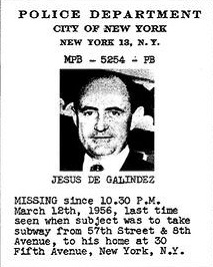 The anti-Fascist writer and Basque leader, Jesus de Galindez, disappeared in 1956 after giving a class at Columbia University, New York. It is strongly suspected that he was abducted and executed by agents of General Trujillo, the then dictator of the Dominican Republic, about whom Galindez was writing an expose.
On this date:
604—Saint Gregory the Great, Church Father and Pope, died.
1022—St Simeon the New Thelogian, died.
1312—A Papal Decree suppressed the Order of the Knights Templar and handed over all its wealth to the Hospitallers, after the civil authorities had recouped their costs of torturing and burning individual Knights. The Kings throughout Europe found that these cost had been remarkably high, (though the Dominicans and Franciscans did the actual work). The Hospital received little apart from real property.
1444—Johann Gutenberg paid a tax of one guilder on his extensive (400 gallons) wine cellar.
1664—New Jersey established as a British Colony by James, Duke of York, later King.
1773—A Provincial Committee of Correspondence for action against the British was appointed by the Virginia House of Burgesses.
1814—Bordeaux was taken by the Duke of Wellington.
1847—Treaty of Lahore signed by the British at Rawalpindi after defeating the Sikhs.
1897—French battleship
Jena
exploded.
1913—Foundation laid at Canberra, Australia, for a new capital.
1930—Mahatma Gandhi began a campaign of civil disobedience in India.
1934—Japanese ship
Tomozurv
capsized off Nagasaki.
1935—A speed-limit of 30mph is introduced for towns and other built-up areas in Britain.
1945—Vienna State Opera House hit and burned by American bombs.
1947—The "Truman Doctrine" for $400 million to combat communism in Greece and Turkey, delivered to Congress by President Truman.
1956—Dr Jesus de Galindez, of Columbia University, vanished.
Today's birthdays:
— John Aubrey, antiquary and writer (1626-1697)
— Vaslav Nijinsky, dancer (1890-1950).
Thought for today:
We need two kinds of acquaintances, one to complain to, while we boast to the others.
— Logan Pearsall Smith.
The above article was written by James Finlayson-Bald.
Edited and illustrations added by
David Paul Wagner
.