Today in History - April 28
• The Mutiny on the Bounty
• Queen Victoria Becomes Empress of India

-- Compiled by James Finlayson-Bald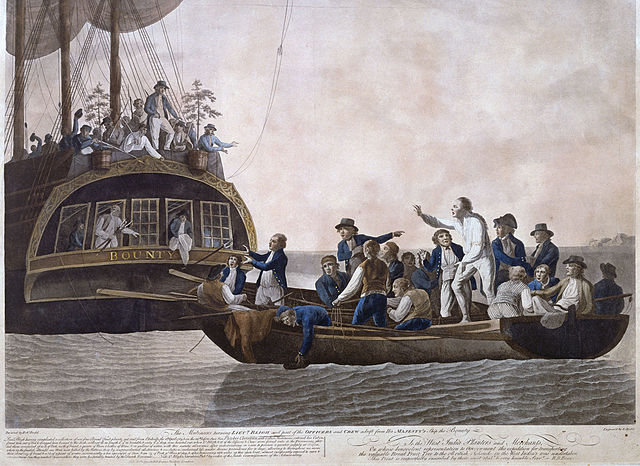 The Mutineers turning Lt Bligh and part of the Officers and Crew adrift from His Majesty's Ship the Bounty, 29th April 1789
.
Bligh was to sail this small launch (just 6 metres long) all the way from Tahiti to Timor - an epic voyage of 3,618 nautical miles (6,701 km) that took 47 days. He achieved this amazing feat of navigation using just a quadrant and a pocket watch (and without charts or compass)!
The above painting was done by Robert Dodd (1748-1815) and may be seen in the National Maritime Museum, Greenwich, England.
On this date:
1503
--Spanish destroy French fleet at Cerignola, Sicily.
1521
--Holy Roman Emperor Charles V grants his brother, Archduke Ferdinand, the Hapsburg possessions in Lower Austria, Carinthia, Styria and Carinola.
1655
--English fleet destroys pirate fleet of Bey of Tunis and releases prisoners in Algiers; Protestants in Vaudois district of Savoy are massacred.
1789
--Mutinous crew of British ship Bounty sets Captain William Bligh and 18 sailors adrift in launch in South Pacific.
1876
--Britain's Queen Victoria is declared Empress of India.
1910
--Albanian revolt is suppressed by Turkish Army.
1936
--King Farouk ascends to throne in Egypt; Arab high command is formed to unite Arabs against Jewish claims.
1945
--Italy1s dictator Benito Mussolini and his mistress are executed by partisans in World War II.
1954
--Premiers of India, Pakistan, Burma, Indonesia and Ceylon confer at Colombo; India signs commercial and cultural agreement with China.
1968
--Tokyo police restore order after 5,000 people demonstrate for return of Okinawa to Japan, and an end to Vietnam War.
1969
--Charles de Gaulle resigns as President of France.
1976
--India's Supreme Court upholds right of Prime Minister Indira Gandhi's government to imprison political apponents without court hearing.
1978
--Leaders of military coup in Afghanistan disclose that President Mohammed Daud and several senior members of his government were killed when they resisted the takeover.
Birthdays:
-- James Monroe, US President (1758-1831)
-- Antonio de Oliveira Salazar, Portuguese dictator (1889-1970)
-- Kenneth D. Kaunda, President of Zambia (1924- )
Quote:
"Excellent things are rare."
--Plato, Greek philosopher (about 427 B.C. -347 B.C.)
The above article was written by James Finlayson-Bald.
Edited and illustrations added by
David Paul Wagner
.