Today in History - July 5
• Czar Ivan VI murdered by his guards
• Raffles, founder of Singapore and London Zoo, dies aged 43
• Bauhaus architect Walter Gropius dies

-- Compiled by James Finlayson-Bald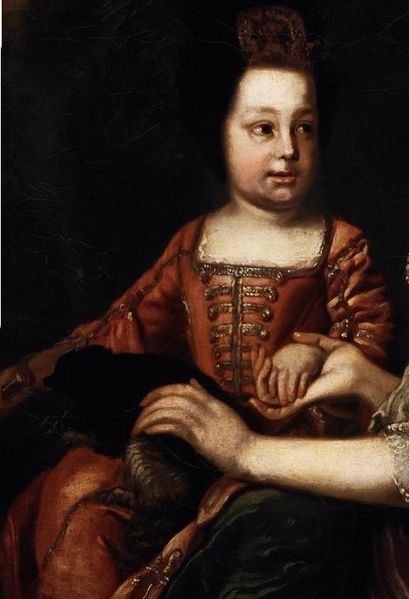 Detail of the painting
Portrait of Ivan VI of Russia
. This painting shows Czar Ivan VI as a child.
The painting, done in the 1740s, is now located in the Tretyakov Gallery, Moscow. The artist is unknown.
On this date:
1762
--Ivan VI, Czar of Russia, murdered. He was the son of Prince Anton of Brunswick and Anna Leopoldovna, niece of the Russian Empress Anna Ivanova. Having declared the child her heir on October 27, 1740, the Empress died the next day, whereupon Ivan was declared emperor. He was two months old. A coup d'etat on Dec 6 placed the Tsarevna Elizabeth on the throne and Ivan and his family were imprisoned in the fortress of Dunamunde. In 1744 they were transferred to Kholmogory on the White Sea, where Ivan, seeing no one but his jailer, spent the next 12 years. In 1756 he was secretly transferred to the fortress of Schusselburg, where even the commandment was unaware of his identity. In 1762 his condition was for a short time improved during the short reign of Peter III, but on the accession of Catherine II, ("the Great, who supplanted and had murdered her son), orders were given that Ivan was not to be delivered alive to anyone. A sublieutenant of the garrison, Vasili Yakolevach Mirovich, learned his identity and devised a plan to proclaim him Emperor. At midnight on July 4, Mirovich and some of the garrison arrested the commandant and demanded the release of Ivan, who was then murdered by his guards.
1826
--Sir Stamford Raffles died. He entered the East India Co's service in early life, took part in capture of Java in 1811, and while governor of Sumatra in 1818-23 was responsible for the acquisition and foundation of Singapore. When he returned to England he took many animals with him which became the nucleus of the London Zoo of which he was founder and first president. He died one day before his 44th birthday.
1969
--Walter Gropius, architect, died. He was the founder of the Bauhaus School in 1919 and was its director until 1928, first in Weimar and later in Dessau where his design for the new premises were regarded as a landmark in architecture.
1969
--Thomas Joseph Mboya, Kenyan statesman, assassinated.
Birthdays:
- Sarah Siddons, actress (1755-1831)
- Jean Cocteau, poet (1889-1963)
Quote:
"By nature, men are nearly alike; by practice they get to be wide apart."
-- Confucius,
Analects
.
The above article was written by James Finlayson-Bald.
Edited and illustrations added by
David Paul Wagner
.