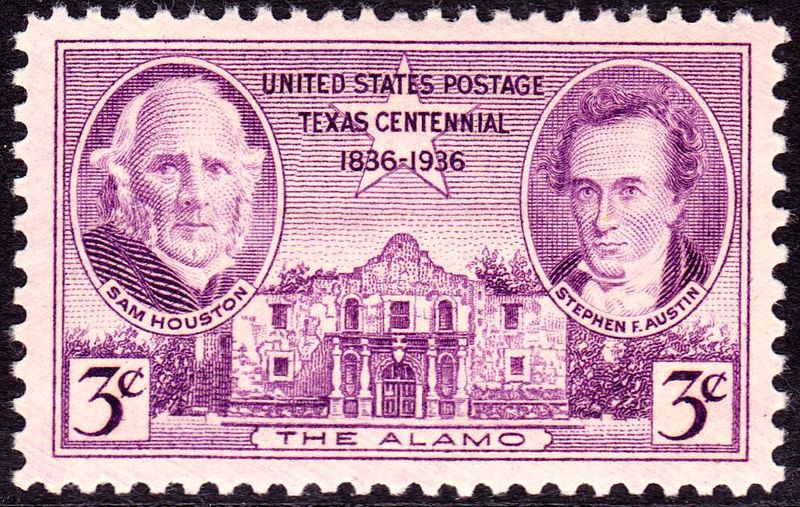 Texas centennial issue postage stamp of 1936, showing Sam Houston, the Alamo (the site of the Battle of the Alamo between Mexico and Texas in February/March 1836), and Stephen F. Austin


On this date:

711--Roderic defeated at the battle of Xeres by the Saracens.

1237--King Edward I of England did homage to King Philip III of France for his French lands, but changed the wording slightly so he could break his promise with a clear conscience.

1469--Defeat of the Yorkists by the Lancastrians at Edgecote.

1643--Excise taxes affected in England.

1698--British settlers set out for Darian on the Spanish Main.

1758--Louisbourg, the great French citadel on Cape Breton, Nova Scotia, surrendered to British forces.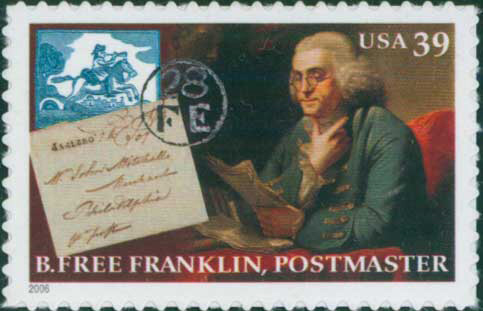 The statesman, writer and inventor, Benjamin Franklin is depicted here on this 2006 U.S. stamp in his role as the first Postmaster General of the United States.

1775--The American Post Office was established with Benjamin Franklin as Postmaster General.

1805--Great earthquake in Naples resulted in over 6,000 people losing their lives.

1845--Last sight of Sir John Franklin's expedition, seeking the North-West Passage.

1847--Liberia, settled in Africa by freed American slaves, became a republic.

1848--The Italians defeated the Austrians at Volta.

1863--The Santee Sioux and the Cavalry fought at Dead Buffalo Lake, Minnesota.

1863--Samuel Houston, first President of the Republic of Texas, died. Born at Lexington, Virginia, he moved with his mother in 1807 to Tennessee and at the age of 15 ran away and lived with the Cherokee Indians. In 1817 he was appointed to manage the removal of the Cherokee from Tennessee to a reservation in Arkansas. From 1823 to 1827 he represented the 9th district of Tennessee in Congress, and in 1827 was elected Governor of the State. After his marriage failed he resigned as Governor in 1829 and again took up residence among the Cherokees and was formally adopted a member of their nation. In 1832 Houston went to Texas to negotiate treaties with the Indian tribes. He remained in Texas, and was elected a delegate to the constitutional convention to draw up a memorial to the Mexican congress asking for the separation of Texas from Coahuila. At the outbreak of the War for Texan Independence Houston was chosen Commander in Chief of the Texan army and in April 1836 defeated Santa Anna. He was elected President of Texas in 1836. His term expired in 1838 but he was elected again in 1841 and served until 1844. During his first term a newly founded city, originally planned as a real-estate promotion was named in his honour and was the seat of government in 1837-39 and 1842-45. After Texas was admitted to the Union in 1845 Houston was elected one of its first two U.S. senators. After returning to Texas in 1859 he won election as Governor and tried unsuccessfully to prevent the secession of his state. Upon his refusal to swear allegiance to the Confederacy he was declared deposed.

1903--First transcontinental motorcar trip completed, San Francisco to New York, at an average of 175 miles per day.

1944--Reza Khan Pahlavi, Shahanshah of Iran, died.

1952--King Farouk of Egypt sent into exile.

1953--The Korean War Armistice signed.

1957--Carlos Armas, President of Guatemala, assassinated.

1958--Final presentation of debutantes at the Royal Court in Britain.

1964--The President of the International Brotherhood of Teamsters, Jimmy Hoffa, was convicted at a Federal trial at Chicago of wire and mail fraud.

Birthdays:
-- George Bernard Shaw, writer, reformer (1856-1950)
-- Salvador Allende, Chilean President (1908-1973)

Quote:
"I was thinking jest what a Rum Go everything is." -- H. G. Wells, Kipps



The above article was written by James Finlayson-Bald.
Edited and illustrations added by David Paul Wagner.