Today in History - March 18
• St Edward the Martyr Assassinated
• Tolpuddle Martyrs Sentenced to Transportation

-- Compiled by James Finlayson-Bald. Edited and illustrated by David Paul Wagner.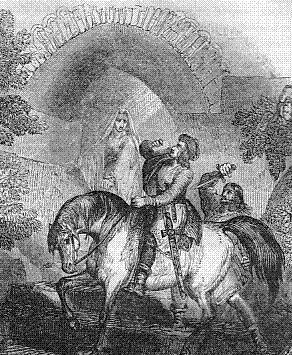 Stepmother Aelfthryth (Aelfthrytha) looks on as St Edward the Martyr, King of England, is stabbed to death. This illustration comes from a Victorian edition of Foxe's
Book of Martyrs
.
On this date:
978
—St Edward the Martyr, King of England, assassinated at the instigation of his wicked stepmother Aelfthrytha, whose son, Ethelred II ("the Unready") succeeded to the throne.
1229
—Frederick II crowned himself King of Jerusalem, which he had taken by private treaty with the Sultan al-Kamil.
1314-39
—Knights Templar ordered to be burned at the stake in France.
1584
—Ivan IV, "the Terrible", died.
1612
—Bartholomew Legate became the last person in England to be burned at the stake for his religious beliefs. A fanatic who held unorthodox opinions about the divinity of Christ, he joined a group called "the Seekers" and became a preacher. Arrested in 1611, he was found guilty of heresy by an ecclesiastic court and sentenced to death.
1662
—Public bus service began in Paris.
1673
—Lord Berkeley sold his half of New Jersey to the Quakers.
1696
—Execution of Messrs Charnock, King and Keyes for the attempted assassination of King William III.
1834
—The Tolpuddle labourers were sentenced to transportation for swearing an oath to Robert Owen's Grand national Consolidated Trades Union.
1871
—Beginning of the Commune rising in Paris.
1913
—Assassination of King George I of Greece at Salonika.
1922
—Mohandas Gandhi sentenced to six years imprisonment for civil disobedience.
1962
—After years of fighting, violence and terrorism, Algeria gained independence from France.
1965
—The first walk in space, by Lieutenant-Colonel Leonov of the USSR from the satellite Voshkod.
1967
—The Torrey Canyon wrecked on the Pollard Rock between Cornwall and the Scilly Isles. Over 30,000 tons of crude oil was discharged.
Today's birthdays:
-- Stephane Mallarmé, French poet, (1842-1898).
-- Wilfred Owen, English poet, (1893-1918).
Thought for today:
"Puritanism: the haunting fear that someone, somewhere may be happy." - H.L. Mencken,
Sententiae
.
The above article was written by James Finlayson-Bald.
Edited and illustrations added by
David Paul Wagner
.