School of Milan

In the 15th and early part of the 16th century Milan had one of the most important schools in Italy. Its first member of any note was Vincenzo Foppa, who was painting in 1457 and was the founder of the early school.

Ambrogio Borgognone (born c. 1455) was an artist of great merit and strong religious sentiment. He followed in the footsteps of Foppa, and his pictures are remarkable for the calm beauty of the faces, and for their delicate colour (see fig. 22), which recalls the manner of Piero della Francesca.



Fig. 22 -- The Mystic Marriage of St Catherine of Alexandria and St Catherine of Siena to Christ, by Ambrogio Borgognone. (National Gallery.)



Leonardo da Vinci, though trained in Florence, may be said to have created the later Milanese school. Fig. 23 shows one of the very few pictures by his hand which still exist. The marvelous and almost universal genius of Leonardo caused his influence to be powerfully extended, not only among his immediate pupils, but also among almost all the Lombard painters of his own and the succeeding generation.



Fig. 23 -- The Madonna with the Rocks, by Leonardo da Vinci. (National Gallery.)



His closest followers were Salaino, Luini, Cesare da Sesto, Beltraffio, and Marco d'Oggiono, and in a lesser degree Andrea Solario, Gaudenzio Ferrari, and Sodoma, who introduced a new style of painting into Siena. Solario also studied in Flanders, and in Venice under Gian. Bellini, so that a curiously composite style is visible in some of his magnificent portraits (see fig. 24).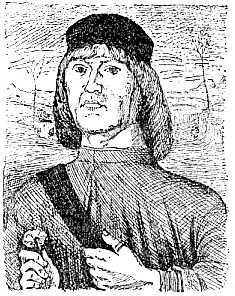 Fig. 24 -- Portrait of a Venetian Senator, by Andrea Solario. (National Gallery.)



Most of the pictures and many drawings usually attributed to Da Vinci are really the work of his pupils and imitations.

Luini, in his magnificent frescos, was one of the last painters who preserved the religious dignity and simplicity of the older mediaeval schools. Fresco painting was practiced by the Milanese after it had been generally abandoned elsewhere.

School of Rome

Rome has always been remarkable for its absence of native talent in any of the fine arts, and nearly all the members of the so-called Roman school came from other cities. This school at first consisted of the personal pupils of Raphael, -- Fran. Penni, Da. Imola, Giulio Romano, and Del Vaga. Sassoferrato and Carlo Maratta were feeble but very popular painters in the 17th century.

School of Naples

The early history of the Neapolitan school is mostly mythical; it has no individual existence till the 16th century, and then chiefly in the person of Caravaggio.

During the 15th century many works of the Van Eycks and other Flemish painters were imported into Naples; some of these were afterwards claimed by the vanity of native writers as paintings by early Neapolitan artists, for whom imaginary names and histories were invented.

The Spaniard Ribera, Salvator Rosa, and Giordano were its chief members in the 17th century.





Read the rest of this article:
Schools of Painting - Table of Contents