---
Recommended Resources

Fitness Swimming

by Emmett Hines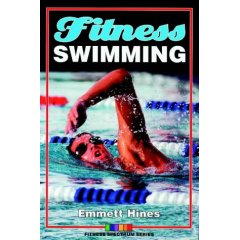 This book provides step-by-step instruction for building a more effective, efficient freestyle stroke...explains how to set up a complete swimming fitness or training plan...includes sample training plans for conditioning or competition.
Enthusiastic reader reviews about this book:
"This book is amazing. I am a novice swimmer who falls at the very beginning of Hines' workout zones. I read the first half of the book in an hour, copied one of his FIRST workouts onto a sheet of paper, stuck it into a plastic sheet protector and headed off to the pool. My freestyle was a mess. I couldn't swim more than three lengths without my arms burning, my legs turning to rubber, etc. Now, i have shaved 4 strokes off one length and can get to the other side without feeling like I'm on my death throes. I never thought fitness books worked until I read this book. I'm a slightly overweight, slightly out of shape person who has never really been athletic and just quit smoking. But now, I go to the pool almost every day (after all, I'm only 20!!) and I can't WAIT to start out a new workout in Hines' book. I feel more confident, more in shape and more athletic."
-- Nicholas Pierce
"This book has been extrodinarily helpful to me. I am a former beach lifeguard and thought that my freestyle was pretty good until I read the author's extremely clear, detailed descriptions of how it feels to swim correctly. I now realize that I what I used to do was really akin to stabbing through the water, rather than gliding over it as I do now. I've been using the drills and workouts in the book for only about 2 months and already I've brought my stroke count (on 25 meters) from 22 when I started to 10-11 now. I expect that this improvement will continue as I progress farther into the drill sequence. I highly recommend this book to anyone who wants to swim for fun, fitness, or competition, regardless of their current ability. Swimming is one of those sports where one's technique can always be improved further."
--
James Wallace
Click here for more details and to buy a copy of this book